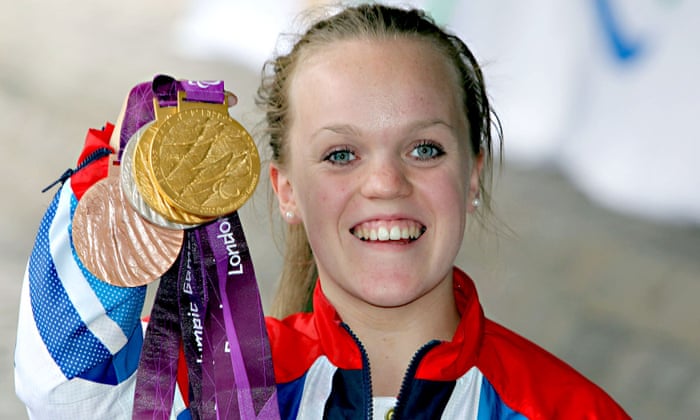 Today, we're in Aldridge – or, perhaps, Swansea – staring at a golden postbox. Did you know these golden postboxes are in memorial to a young female Olympian? Specifically, one of the stars of the 2008 Paralympics in Beijing.
Yet her story starts in 1994. Born in Walsall, England, Ellie Simmons was born with achondroplasia – more commonly known as dwarfism. DESCRIBE
Ellie is the youngest of five children, but as she has often stated, she is the only athletic one. "They've got all the brains," she said in reference to her brother and three sisters.
At the age of five, Ellie became interested in swimming. She joined the Boldmere Swimming Club in Sutton Coldfield, with her parents hoping that swimming would give her confidence. By age ten, Ellie had become a great swimmer. That year, while watching the Paralympic Games in Athens, she became inspired to become an Olympian. The next year, she moved to Swansea to take advantage of the city's world-class swimming pool while her siblings stayed in Aldridge. Ellie visited them on the weekends.
In 2006, at age 12, Ellie made her professional debut at the World Championships in Durban. That same year, she underwent surgery to insert four metal plates into her legs, helping straighten her limbs. Ellie quickly recovered, returning to her beloved swimming in time to become the youngest British athlete ever – at age 13 – in the 2008 Summer Paralympics in Beijing. Ellie competed in the 50 meter, 100 meter, and 400 meter freestyle events as well as the 50 meter butterfly and 200 meter Individual Medley. She won gold in the 100 meter and 400 meter freestyle events, becoming the second youngest Paralympion in British history to win a medal of any color.
Four years later, Ellie returned to the Paralympics – this time in London. At the age of 17, she won the 400 meter freestyle, in which she also set a new World Record time. Ellie also placed Gold in the 200 meter Individual Medley, again breaking a world record – both in her qualifying round and in her performance round! She also won silver in the 100 meter and bronze in the 50 meter freestyle. In honor of her two gold medals, two Royal Mail postboxes were painted gold and erected in Aldridge and Swansea.
Ellie went to the Paralympics a third time, in Rio in 2016. She defended her titles and set a new world record for the 200 meter, in which she won gold. She also won bronze in the 400 meter freestyle.
Throughout her time as an Olympian, she has won ten gold World Championship titles, the 2008 BBC Young Sports Personality of the Year, and several other awards. Notably, in 2009, at the age of 14, she became the youngest person ever to receive the New Year Honours during her appointment as a Member of the Order of the British Empire from Queen Elizabeth II. In 2013, at the age of 18, she became an Officer of the Order of the British Empire.
Yet after these achievements and the 2016 Paralympics, Ellie struggled to maintain her passion for swimming and considered quitting the sport. She took some time off to travel through Asia, Australia and the United States of America, and then relocated to London to begin training with her former coach Billy Pye again once she returned to the UK. She stated in a 2018 interview with the BBC, "I just hated swimming and everything about it. I just didn't want to get back in the pool. I didn't have any objectives, I had achieved my dreams. I needed that time away to refocus and figure out what I wanted in life. It gave me perspective of what the sport is for me and helped me find my love for it again. Being back with Billy is such a laugh. We push each other to the limits but we know what makes us tick."
In that same interview, Ellie also spoke about the impact of her experience abroad, stating, "I was ready then, at 21, to figure out what else I was in life. It was about my whole identity and it changed me hugely. Travelling gives you confidence and opens you up to the real world. When I was younger I would want the next designer bag. But when you travel and meet other people – especially some countries where they don't have as much as you – it really makes you think. You don't need the next iPhone."
Today, Ellie uses her fame to give back. She is a patron of Dwarf Sports Association UK, an ambassador for The Scout Association, and a Girl Guiding leader in Manchester.
One of the more interesting facts about Ellie, in my opinion, is that despite her love for swimming, it took awhile for her to love the ocean. In a 2017 interview for BBC Radio, she stated that she was able to conquer that fear and it sparked a passion for saving the ocean. Ellie has also studied Psychology at Loughborough University, and been awarded honorary degrees from Swansea University and the University of Bath.
But most admirable is – perhaps – her personal motto: "work hard and be yourself". This motto was instantly loved by the British people.
As of the time of writing, Ellie has plans to compete in the next Paralympic Games, which were scheduled to be held in Tokyo in 2020. She then plans to retire, hoping to become a primary school teacher. Speaking in January 2020 to The Guardia, Ellie said, ""I'm currently training nine times a week in the water and that's excluding the gym work and yoga. On a typical Monday I swim from six until 8am. I go from there to the gym and do a session from nine until half 10. I get home about 11ish. Take a nap and have lunch. Swim from half three to half five. I get home at half six. Have dinner. Monday to Fridays I'm practically an athlete every hour of the day. I try and socialise a little on the weekends. Of course each training session in the pool changes. This morning it was threshold tests so it's about working for a long time at high intensity. Last night was sprint-based.""
For her dedication and achievements, Ellie is considered one of our Great Girls. You can visit the golden Royal Mailboxes placed in her honor in Swansea and Aldridge.