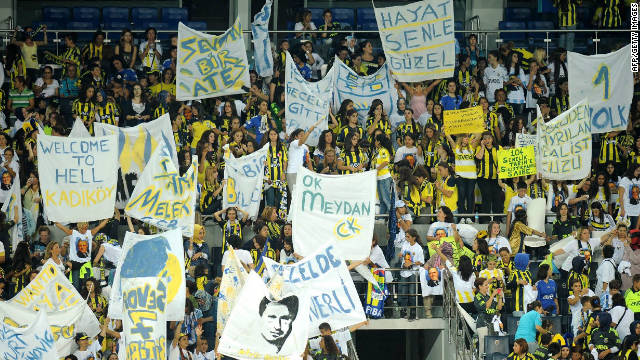 More than 43,000 female fans turned up to watch Turkish side Fenerbahce play.
Local Turkish team Fenerbahce have been under intense scrutiny lately after allegations of match fixing and inappropriate fan behaviour which included pitch invasions and violence. So in an attempt to repair some of the damage that had been done to the Fenerbahce team's reputation, the Turkish Football Federation recently adopted a unique approach to crowd management. A two match ban was imposed on male supporters, with the initial intention that the game would be played in an empty stadium. However, 24 hours before the scheduled match organisers had a brain wave and instead offered free tickets for the available 43,000 seats to women and children under 12 years of age.
The result was the highest female attendance at a men'Äôs match in world football to date. Fenerbahce's vice-president
Ali Koc was quoted by CNN
as saying, "This atmosphere was one of the kind and historic in the sense of Turkish football as well as international football…The women of Fenerbahce sports club have shown us what they can do for their club, what they can do for Turkish football and I think this was an event that was exemplary for sports."
Koc continued to praise the initiative, describing the change in the atmosphere compared with a typical game as, "Lots of songs, a lot of chanting and solidarity." He also said, "A man has less patience waiting in line for tickets. Coming to the stadium of course men are lot more loud and more synchronized but the women were a lot more passionate and a lot more encouraging."
 It's unrealistic to think that these high levels of female spectators will continue after the 2 week ban on males comes to an end, but it will be interesting to see whether female attendance climbs. Will this stunt have done enough to open Turkish men's eyes to their behaviour? Will women and children feel comfortable attending matches again or was this opportunity only a momentary sanctuary in what is usually a threatening environment? The Fenerbahce organisation having been trying for some time to provide a more family-friendly environment, so hopefully this is their first positive step on the road to achieving their goal. 
-Briar Barry
Junior Girl
Girl Museum Inc.