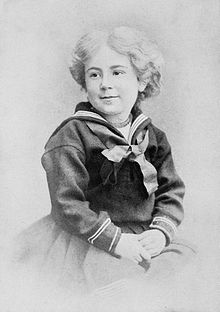 Born on 3 April 1881 in Petersham, Surrey, Daisy Ashford was the oldest of three daughters. Largely educated at home, Daisy loved creating stories to entertain her younger sisters. When she was only four years old, she dictated a story called The Life of Father McSwiney to her father. As she grew, she wrote several other short stories, a play, and at least two novellas.
In 1890, when Daisy was only nine years old, she wrote The Young Visiters. Concerning the upper-class society of late nineteenth century England, Daisy's novella follows Alfred Salteena, an "elderly man of 42", who strives to become a gentleman after falling in love with the beautiful Ethel Monticue. What follows is a hilarious story of mishaps and ridiculousness, with a distinctive narrative voice and original spelling errors intact (as evidenced in the title). If you're intrigued, you can read it here!
After rediscovering the novella among her mother's papers in 1919, Ashford lent it to her friend, Margaret Mackenzie. It passed through several hands before it reached Frank Swinnerton, a novelist who had connections with the publisher Chatto and Windus. In love with The Young Visiters, Swinnerton managed to get the book published almost exactly as it was written (except for adding in paragraph breaks — since there were none in Daisy's version!). J.M. Barrie, the creator of Peter Pan, wrote the introduction.
An immediate success, The Young Visiters became so popular in the United Kingdom and the United States that it went through at least eight printings in its first year, and it hasn't been out of print since. It later became a stage play, a musical, a 1984 feature film and a 2003 TV series made by the BBC.

Daisy Ashford shows us that as long as you have a passion for storytelling, you can be successful regardless of your age! You never know — perhaps your idea will be as popular as Daisy's The Young Visiters.
-Rosalie Elliffe
Junior Girl
Girl Museum Inc.