Kateri, or Lily of the Mohawks, is the patron saint of the environment and ecology. She was canonized by Pope Benedict XVI in October 2012, the first Native American woman to be given this honor.
Born in New York in 1656 to a Mohawk warrior and a Christian mother, Kateri was orphaned at a young age. As a result of smallpox, her face was scarred and disfigured. Following her conversion to Christianity as a teenager and decision to remain chaste, she suffered much hostility, even threats, from her tribe.
Nevertheless, Kateri led a life of prayer and penitential practice as well as teaching and helping those who were poor or sick in her village. It is said that moments after her death at age 24, her scars disappeared and she was made beautiful by God.
This image is the oldest known portrait of Kateri Tekakwitha, painted by Friar Claude Chauchetiere a year after her death. In the portrait, there are many symbols related to the life of Kateri, such as red lilies and the Mission at the Sault. Chauchetiere was a Jesuit priest who played an important role in Kateri's life, and thus his portrait reveals his beliefs that she was a saint. His decision to portray her dressed in white is symbolic of his belief in her purity, as well as his fellow priest Pierre Cholenec's belief that Kateri was a virgin.
Kateri's decision to refuse an arranged marriage and pursue a life of chastity has her often being referred to as a lily, a symbol of purity among Roman Catholics and one often used for the Virgin Mary. She is colloquially known as the Lily of the Mohawks and her tribal neighbors famously referred to her as "the fairest flower that ever bloomed among the red men."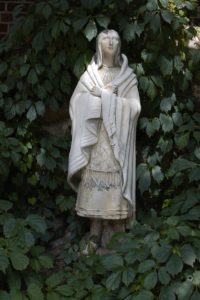 Depictions of Kateri often include a lily and cross, like this statue that is situated on the exterior of the Basilica of Sainte-Anne-de-Beauprè in Quebec, Canada. Sculpted by Brunet, it is one of 24 capitals that he created for the Basilica. This sculpture emphasizes Kateri's identity as a Native American woman, featuring traditional dress, and her faith as she carries a rosary and clasps a cross.