Refugee girls.
They seek spaces, spaces they were long entitled to. They seek a home, a home they never wanted to leave behind, but had to. To be a refugee girl is to constantly oscillate. Every step forward, a simultaneous step back. An oscillation between girl and woman, a home and the search for it, nostalgia and dreams, and, consequently, the past and the future.
The dreams they have are the dreams they strive for, and the things they hold on to are the things that do not fit them anymore.
This exhibition is an exploration of the back and forth, the oscillation.
An ode to refugee girls who have grown up uprooted and scattered around the world. The girls they were once upon a time is now the space they call home, the consciousness that roots them.
Their only experience of home was girlhood. Girlhood, then, becomes home.
An ode to refugee girls – girlhood transformed, girlhood in constant motion. And what metamorphoses? What prevails? What will the girl hold on to, and what will she leave behind?
Support Beirut
The original works featured in this exhibition are currently for sale, with 80% of the profits donated to the Lebanese Red Cross to support relief efforts in Beirut. Click the button below to visit Kim's shop.
Still Stay
Still
As water in the lake,
I will wait
For your wake.
Still
As strings of no quiver.
Crickets heard in the mouth of silence,
Yet veiled.
The lake lays,
My heart
She
Sits
Still.
She who
Used
To sway
With the currents,
Dance with the winds.
The world can spin
And
Move
And swirl.
As dusk
Quietly
Meets dawn
She will.
Time goes on,
Dawn
Meets day.
Winds sway,
She sits still
Awaits your wake.
Always the Seeds, Always the Roots (2020), by Tania Haddad and Kim Roger Abi Zeid Daou. Papier peint patchwork on canvas.
Before delving into refugee girlhood narratives, I chose to explore my own girlhood by creating art with my mother, whose unconditional love and unwavering devotion are fundamental to my coming of age. Only through the process of examining the mechanisms through which I remember girlhood was I able to find the framework, method(s) of inquiry, and perspectives to explore the girlhood of others. Thus, this painting compiles, evokes, encompasses the flowers they left behind. Flowers that can no longer be, scents that linger still. (always)
Blue Monster
When they were younger, Mira, Yara, and Aya played with towels, shading each other as they changed into clean clothes and out of their muddy swimsuits, in the public shower. One squealed while the others laughed. Then they heard a thud, making them all scream.
Their enchanted laughs mirrors, their lanky bodies parallel lines. Their limbs and elbows, intertwined. Their fingertips smelt of thyme and sesame, they had matching sunburnt cheeks and sun-screened baby calves.
Breathlessly squeaking, they joked and said, "Someone is coming." They tilted their heads back, trying to catch a breath in the midst of their heartfelt laughter.
Whoever was tangled up, half-dressed, and neatly concealed in the veils of the rest screamed with both terror and delight, knowing all too well it was a prank.
They were three yet one. A pack, a swarm—a bouquet of flowers that meets at the root. And it was the root that bound them together—a spiral of one.
By next summer, they had grown too tall. Make belief was no longer necessary for them to run for their life.
Full of Dream (2020), by Kim Roger Abi Zeid Daou. Acrylic and pastels on canvas.
Bioluminescence
as only light and water do
Little girl / droplets, cascading on her skin / translucent as a lake / iridescent as a dragonfly / green purple black / under a waterfall / on a quest undersea / a cuttlefish / every-changing, opalescent / blue grey transparent / heaving tide comes to rest / transpire, beads of sweat / pearls of an oyster / mother of pearl / white pink turquoise / spilled fuel on asphalt / gleaming / black purple green / iridescence / the essence of day / mud after rain / the day as it wakes / yellow / awaits the bees, the lilies, the streams / the tears that clean / clean bioluminescent eyes / hazel / when little girl yawns / inhales / the wet, damp air / tears thunder then flood / a flood in the midst of a hurricane / to wash us all clean.
My Lover, Working Memory (2020), by Kim Roger Abi Zeid Daou. Acrylic on canvas.
Scents have the power to transport to various places across time and various states of being across and beyond space. To be somewhere and elsewhere at the same time. To time travel. To be a girl and a woman. The duality of state of being.
The Things We Carry
She was long / long told her eyes are round / round as moon craters / silk as honey / pollinated / viscous combs / she felt heavy / must be having liquids for eyes / eyes pliable as sugaring wax / molten on tongues / dripping on fingers / eyes loyal as honey / hardened, crystallized / as fixed as the roots / roots of trees / planted in her with seeds she never asked for / but had to carry / seeds of stories / she felt heavy / or must be having volcanoes for eyes / molten bedrock / dripping , viscous / she felt heavy / heavy-hearted / carried her belongings in a back pack and two plastic bags / last stop was the jewellery store / she sold her golds / gold as pliable as sugaring wax / molten gold dripping into casts / gold / most gifted from men and some from women / was harder to let go of those gifted by women / women who told her / gold is always a good investment honey / because all women know of days where all you have is a backpack and two plastic bags of belongings / and golds and silvers / most gifted from men and some from women / and days where eyes are all / are all you can carry / eyes that can no longer carry tears / molten hearts and dripping eyelids / tears dripping / never crystalized / but in the end what are we / but the things we carry / but the things we carry.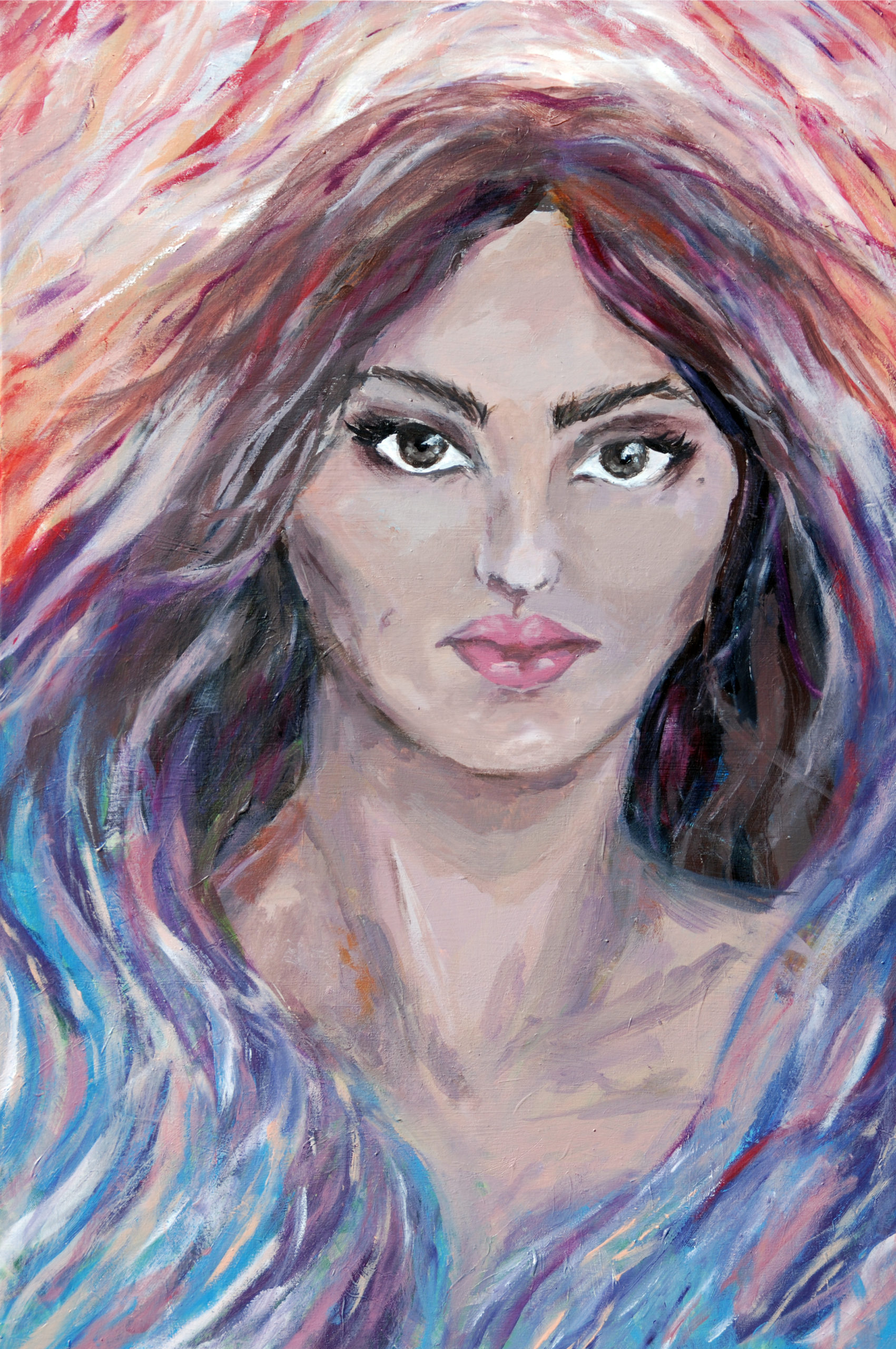 Upward Spiral (2016), by Kim Roger Abi Zeid Daou. Acrylic on canvas.
To merge or not merge with surroundings. To create a space, a universe, a spiral of your own, a ring to encircle you. The first step towards any state of being is imagining. Girls becoming.
a girl carrying a bucket of tears in a city that isn't her own
new haircut, torn jeans / bubble-gum, blushed / only sweet, fragrant, overripe / pre-teen / florence and the machine / blasting in her ears / pink floyd streams / how I wish you were here / how I wish you were here, most of all / long day ahead / a small girl wallowing in a city that is not her own / carrying a bucket of tears / baby teeth and feet / feet that have known longer routes, far away / her sky-blue converse shoes / running, climbing, claiming / the universe in her palms / feet aching / grandma told her / sneakers always hurt the first time you wear them / overripe fruit bruises easy / & the insides of her fingers always look the same / identity, fickle as fast sand / to hold a hand as a mirror / at arm's length / how I wish you were here / mine and not mine /
stars that look far for belonging / to other time / distance is always the shapeshifter / & a hand is just a hand / days go by, one by one / the shoes yet to be pliable, yet to be malleable / feet still aching / for out of reach, worn-out sky-blue / & the things the girl holds on to are the things that do not fit her anymore.
Shaping and Reshaping (2020), by Kim Roger Abi Zeid Daou. Acrylic and pastels on canvas.
The Hunger of Girls
Her childhood allies were now scattered around the world. Little girls, together then abruptly apart. Only tied by what summer days used to be all about.
She remembers their voices, always. How they played so long in the pool, by the waves, their skin would dimple. How they read each others' palm lines, comparing their fates.
How they mapped out their dreams at points they can intersect.
Girls sweat differently as they were unafraid—unafraid of their tears burning their skin, their sweat dissolving, absolving their curls. They were warm and full of dream.
Girls
Girls
Girls.
Tangled together,
awkward limbs.
Laughing loudly,
in awe of their own heat.
An Ode to My Backbone
Sister.
Together, we are particles of life.
Entangled.
Because we have established
Her nociceptors respond
To stimuli, sending
Nerve signals
To my brain,
My spinal cord.
و vice versa.
Intertwined backbones.
Complementary, interwoven
As DNA strands,
Wound around each other.
Together, we are taking a bite out of the whole universe.
Nothing less
Can satiate
The hunger of girls.
About the Artist
Kim Roger Abi Zeid Daou is a storyteller, poet, and PhD student at McGill University. At the heart of her stories, is an exploration of perceptual biases, neuroscience, and the dynamic ways in which we create and conceptualize narratives and experiences. Hailing from Lebanon, she also seeks to creatively archive collective memory, to share intricate details that touch her in ways she wishes to touch othe​rs. Visit her official website here.
All works are © Kim Abi Zeid Daou, with permission for use in this exhibition.
Support Beirut
The original works featured in this exhibition are currently for sale, with 80% of the profits donated to the Lebanese Red Cross to support relief efforts in Beirut. Click the button below to visit Kim's shop.