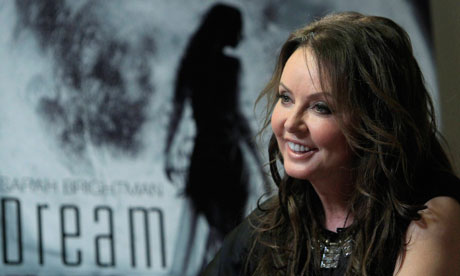 Sarah Brightman has booked a trip to the International Space Station and hinted at doing a 'space concert.'
Photo: Sergei Karpukhin/Reuters
West End and Broadway and singing sensation
Sarah Brightman
is well known for her hit records, starring stage roles, and high profile relationship with Andrew Lloyd Webber but she is now embarking on a new adventure – into space!
At a press conference in Moscow, the singing star announced that
she had been approved as a space tourist
and booked a seat on a Russian Federal Space Agency Rocket to the International Space Station sometime in the next few years, after her 2013 tour.
Since Space Tourist 
Dennis Tito
became the first traveller to pay for a trip into space out of his own pocket in 2001, seven others have followed in his footsteps, including
Anousheh Ansari
who was the first female private space explorer in 2006 and wrote a
blog
about her experience in space that is inspiring to any woman aiming for the stars.
-Emma Hatherall
Junior Girl
Girl Museum Inc.