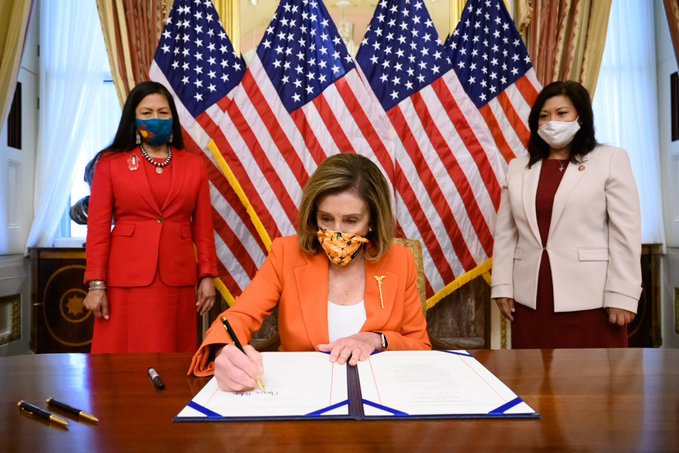 Today, Speaker Nancy Pelosi of the U.S. House of Representatives signed Savanna's Act and the Not Invisible Act, officially sending both to the President for signature. These two bills are huge for Native people in the United States, especially women and girls.
Savanna's Act, proposed by Senator Lisa Murkowski (R-AK) in January 2019 and named for Savannah LaFontaine-Greywind (who was abducted and killed in North Dakota), "directs the Department of Justice to review, revise, and develop law enforcement and justice protocols to address missing or murdered Native Americans." Specifically, the DOJ will have to provide training to law enforcement agencies on recording tribal enrollment for victims, develop and implement strategies to educate the public on the missing persons system, and conduct specific outreach to tribes about their ability to enter information on missing persons to the national system. More importantly, the DOJ must develop specific guidelines for responding to cases of missing and murdered Native Americans and fully report statistics on missing or murdered Native Americans. Such guidelines may also be submitted by Tribes, to help inform and direct the DOJ's work.
Additionally, the Not Invisible Act, proposed by Representative Debra A. Haaland (D-NM), "increases coordination of efforts to reduce violent crime within Indian lands and against Indians. Specifically, the Department of the Interior must designate an official within the Bureau of Indian Affairs to coordinate prevention efforts, grants, and programs related to missing Indians and the murder and human trafficking of Indians." Additionally, the Act directs the Departments of Interior (DOI) and Justice (DOJ) to establish a joint commission on violent crime within Indian lands and against Indians, which will develop and make publicly available recommendations on actions to combat violent crime against Native Americans and within Native American lands.
These are huge gains for Native people, especially the estimated 5,712 Native women and girls who are considered missing or murdered (as of 2018), within which only 116 are registered in the Department of Justice Database. This incredibly complicates efforts to report, investigate, and locate these women and prosecute those responsible. I honestly can't stress how much this complicates efforts and leaves the bulk – if not all – of the work to Native communities.
If you can't already tell, the violence of MMIW has reached an epidemic level, largely due to active neglect, discrimination, and apathy towards Native communities. Commonly known as #MMIW, missing and murdered indigenous women affects Native Americans and Indigenous peoples in Canada and the United States. The violence has become so overlooked that a movement was sparked to bring recognition to the disappearances and murders, which also include two-spirit and trans persons. The statistics are startling:
84.3% of Native women report experiencing violence during their lifetimes. This means that 4 out of every 5 Native American women are affected.
56% of Native women report experiencing sexual violence and/or physical violence by intimate partners in their lifetime.
Native women face murder rates more than 10 times the national average in some counties. In contrast to white women, Native women are 1.7 times more likely to experience violence and 2 times as likely to have experienced rape.
According to the Lakota People's Law Project, "This violence is primarily committed by non-Native men, a crisis perpetuated by a multitude of factors." The vast majority – nearly 96% of Native women – say the violence was inflicted by a non-Native perpetrator.
This was likely the case in June 2017, when Ashley Loring HeavyRunner, a 20-yearold college student and resident of the Blackfeet Reservation in Montana, disappeared. Her disappearance was not known for several days, and only discovered when her sister – Kimberly – returned from a vacation abroad and could not get in touch with Ashley.
"I tried to call Ashley, and she didn't text me or anything. There was no response from her," Kimberly Loring said. When she couldn't reach her, she said she began reaching out to her sister's friends on social media, but none of them had seen her since June 5.

"She was waiting for me, and I know she wouldn't up and leave," Kimberly Loring said, adding that her sister was extremely close with her family members and would have told them where she was going. Friends and other family members also told ABC News that it was unlike her to go so long without contacting anyone.

"Something happened to her," Kimberly Loring said.

[…]
"I don't want to be an 80-year-old woman searching these mountains with my grandchildren," Kimberly Loring said. "But there's no choice, because if I give up, who's going to look for her?"

Since Ashley Loring's disappearance, Kimberly Loring quit her job in Missoula and moved back home to the reservation to help look for her. Family members filed a missing person report with tribal police in mid-June. More than four months later, they said they still have not heard from her. Tribal police have also been unable to find her.

Evan Simon for ABC News, November 1, 2017.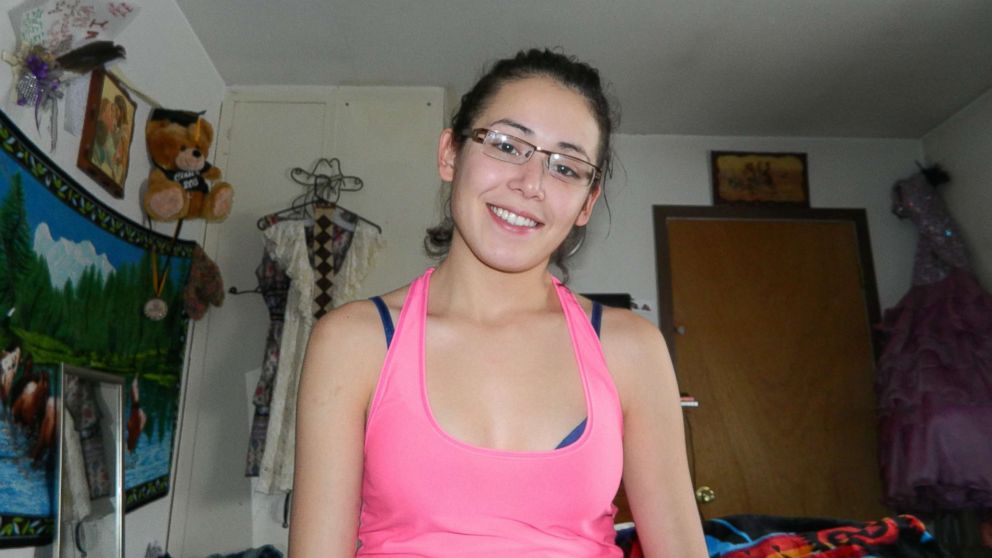 Ashley's story wasn't reported on by local media until November – nearly 5 months after she had gone missing. I can't express my rage, or also the heartbreak in knowing this is common for MMIW.
Despite knowing these facts, until today, the United States has failed to adequately protect Native women, investigate crimes against them, and prosecute the perpetrators of such crimes. Instead, advocacy has been led by Native women for Native women, and growing with support from non-Native people across the globe. Earlier this year, 18-year-old Rosalie Fish – a member of the Cowlitz Tribe – spoke at TEDxYouth in Seattle on why she is using running as a platform to raise awareness for MMIW. You can view her TEDx Talk in the video below:
Today's signing of Savanna's Act and the Not Invisible Act are so important for Native people, and for fostering a better America. Hopefully, we will see the President sign these Acts into law, finally propelling forward justice for Native women and girls through investigation, funding, and implementation of strategies that can finally find out what happened to them and bring them home.
For more information on MMIW and various reports, visit the Lakota People's Law Project and this brief from CulturalSurvival.org.
If you or someone you know is a Native person experiencing violence, please call one of the helplines below:
StrongHearts Native Helpline: 1-844-762-8483
National Indigenous Women's Resource Center: 1-855-649-7299
Coalition to Stop Violence Against Native Women: 1-505-243-9199