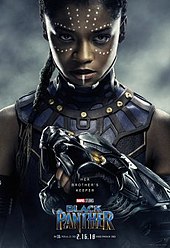 Marvel's Black Panther has continued smashing box office records since its opening weekend, proving the need (and desire) for greater diversity and representation on our screens. Ryan Coogler's triumph is set in Wakanda, a fictional African country that fans have already been introduced to in Captain America: Civil War. After the death of his father, T'Challa (Chadwick Boseman) becomes king, and obtains the power of the Black Panther. His kingship is challenged by his cousin Erik (Michael B Jordan). Erik believes Wakanda's resources should be shared to encourage the oppressed to fight. With his brilliant sister Shuri (Letita Wright), head of security Okoye (Danai Gurira) and fierce spy Nakia (Lupita Nyong'o), T'Challa has to fight to regain control and rule a more internationally considerate and forward-thinking Wakanda.
The women in Black Panther are exceptionally smart and powerful, and all around badass. The king's personal guard, the Dora Milaje, are an all-female powerhouse; as its leader, Okoye protects T'Challa, fighting alongside him. He trusts her with his life and it's easy to see why. She is tactical, powerful and skilled. My favourite scene from the movie has to be her standing on top of a car, being driven by the equally badass Nakia, spear in hand. There are references to her relationship with Daniel Kaluuya's character, W'Kabi. But this is a partnership that is introduced in the middle of the film, and certainly does not define her. First and foremost she is fantastic at her job and is loyal to her king and country.
It is T'Challa's 16-year-old sister Shuri who shines the brightest, though. As second in line to the throne, she is a princess. However Wright's character reshapes what this title can mean. She is the reason that Wakanda is the most technologically advanced country in the world. She is undoubtedly the smartest person in this movie, and is the brains behind the country's scientific advancements. She mends Everett Ross's (Martin Freeman) spine after a fatal gunshot wound, produces the Black Panther suits, and makes armour, weapons and ships for the army. Her inventions quite literally save the day every time. Shuri is also hilarious; her jokes bring necessary light to the film.
Black Panther presents women accurately. It shows them to be three-dimensional characters with many talents, beliefs and positions. They're fierce, intelligent and caring to name a few. Furthermore, Shuri shows young girls that STEM is not gendered, and that being a princess is as powerful as being a prince.
-Phoebe Cawley
Junior Girl
Girl Museum Inc.