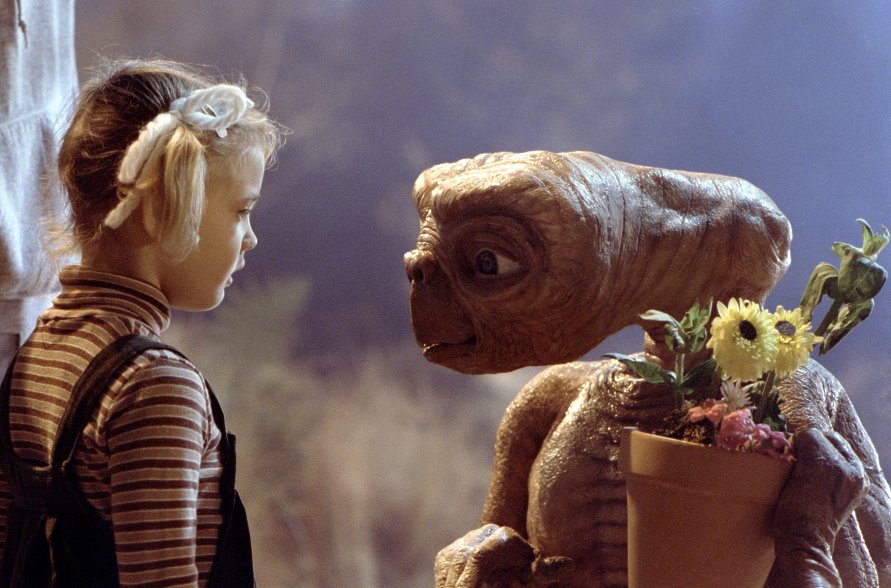 Drew Barrymore as Gertie in E.T.: The Extra-Terrestrial.
Current generations from 30 onwards can easily recall the famous young actresses of the 1990s. It seems that abrupt success and recognition didn't turn out for the best in all of the cases, while others, after years of absence from the screen, have managed to make a striking comeback. One thing remains constant; there is no secret key to a sequence of success other than tons of talent and a touch of good luck.
Following her parts in John Hughes' romance films,
Molly Ringwald
was the 80s and early 90s American sweetheart and has been commonly acclaimed as the greatest teen star of all time. As of 2008, she came back in safe territory, playing a pregnant teen's mother in the ABC series
The Secret Life of the American Teenager
.
Anna Chlumsky
was 11 years old when she starred in the drama
My Girl
(1991) and turned the character of adorable Vada Sultenfuss to a complete success. She took a long break from acting to fulfill her studies, worked as an editorial assistant, and after several guest appearances in TV shows she recently returned playing a leading role in HBO's comedy series
Veep
. Film history was made for the second time when 11 year old
Anna Paquin
 became the second youngest winner of an Academy Award when she received an Oscar for Best Supporting Actress for her performance as the young Flora McGrath in 1993's
The Piano
. She undertook further impressive roles when, later on, she thrived as the waitress Sookie Stackhouse in the HBO series
True Blood
(2008) that earned her many awards for best actress.
During the 90s, a number of groundbreaking TV series were introduced to teenage audiences and intimate family sitcoms were launched, aiming at wider viewership. Shannen Doherty, best known for the character of Brenda Walsh in teen series
Beverly Hills, 90210
(1990) gained worldwide recognition and caught media attention at the age of 19. In future years, she remained active in both the small and big screen, although she had to face the law from time to time on account of
bad temper or reckless driving
. The most recognizable star-twins ever remain
Mary-Kate and Ashley Olsen
, who starred in ABC's family sitcom
Full House
(1987) before they were even one year old! Their hits continued, as they appeared in multiple films and series, subsequently leading in their emergence as fashion icons in the early 2000s. The Olsens survived anorexia issues, overcame their wild party-animal days, and grew up to become owners of a couture label, next to other clothing brands, as well as see themselves among the richest women in entertainment.  
For selected few others, success and well-adjustment was carved on their path. Not only did they make a breakthrough performance, but they also experienced more bliss in their forthcoming careers. By choosing potent roles and acting on full potential, their list of nominations and awards is gradually increasing.
Natalie Portman
made her on-screen debut at age 13 as the orphan Mathilda who befriends a hitman in Luc Besson's action film
Léon
(1994). Soon after, success kept coming in with roles that defined her talent, like Padmé Amidala in the
Star Wars
prequel trilogy. In addition, she proved her smarts by acquiring a psychology degree from Harvard University. In 2010, Portman played the adept ballerina Nina Sayers in Darren Aronofsky's thriller
Black Swan
and won every possible award for Best Actress. One may also add
Reese Witherspoon
in this category of overachieving brainiacs. Fifteen year old Witherspoon starred in the romantic drama
The Man in the Moon
(1991), but it wasn't until a decade later when she hit massive success with her role as Elle Woods in the comedy
Legally Blonde
. In 2005, she was rewarded with all of the four basic awards for best female performance for her portrayal of June Carter Cash in
Walk the Line
. Apart from being a first-class actress, she is an engrossed activist and owns a production company.
The example of the young actresses who soon disappeared from the spotlight or fell in decay, is also frequent.
Drew Barrymore
was only 7 when she became a famous child star, succeeding her breakout role as Gertie in Steven Spielberg's blockbuster movie
E.T.: The Extra-Terrestrial
(1982). By the age of 15, she had nothing but a disturbed childhood. Having overcome her addictions, she returned in acting and established herself in romantic comedy films no later than the end of 90s. She also set up a very creative and prolific production company. Multitalented
Juliette Lewis
attained widespread fame at the age of 18, as ingenue Danielle Bowden next to Robert De Niro in Martin Scorsese's thriller
Cape Fear
(1991). Being a teen maverick, she had often troubles with the law and went into rehabilitation for drug addiction. Since 2004, she has been the leading singer of the rock band
Juliette and the Licks
.
As expected, the 21st century brought in new names and faces. Despite being just 18 years old
Dakota Fanning
is respected for her maturity, and
Abigail Breslin
is only 16 and has already co-starred with major actors. Will the next rising stars manage their success in a wiser and milder way?
-Magda Repouskou
Junior Girl
Girl Museum Inc.