Connect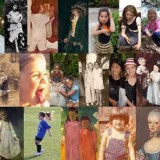 How can you get involved at Girl Museum?
As advocates for girls, we are all about collaboration and mutual growth at Girl Museum. It is very important for us to foster a community of participation. Find out ways you can support us, and how we help others.
Click the buttons below to learn about the various ways you can connect with us, support our mission, and help make a better world for girls.
Advocate
Supporting Girl Museum's mission by advocating for us is most appreciated. Be sure to follow us on Facebook, Twitter, Instagram, Pinterest, Tumblr, or YouTube.
Girl Museum believes that helping others is an individual and collective responsibility, not a fashionable trend. The goal is to stop these things happening so that the 'charity' industry is actually going out of business, not growing. There are many nonprofit organizations all over the world doing important research and work to help girls' causes. Click the button above for ways you can help advocate for us and for girls everywhere.
Also be sure to subscribe to our newsletter by entering your email in the box below and clicking "subscribe":
Communicate
We all have stories to tell and opinions to share.
Connect with us
If you would like to be a guest blogger for Girl Museum, let us know.
Please feel free to leave a comment on our Guest Wall.
Donate
As a volunteer-run museum and non-profit, we are funded entirely by donations. Your contributions go directly into helping keep our museum operational and producing engaging programs dedicated to telling the real stories of girls.  Your contributions are also entirely tax-deductible, as we are a registered 501(c)3 nonprofit.
You can be a part of this incredible opportunity for girls and women. ¬†Please support us and become part of an international community dedicated to giving girls the history — and the museum — they deserve. ¬†Donate now via JustGive.
Participate
Collaborating with Girl Museum is the best way to really be a part of the change for girl empowerment. We offer several types of opportunities to participate in the museum.: Volunteering, Internships, and Partnerships.  Click the button above to learn more.