View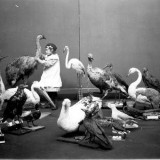 Our main purpose is to research and produce exhibitions on girls' history and culture. These are shown exclusively online, using virtual collections and collaborations with girls, women, and non-profits around the world.
We produce 3-4 exhibitions per year, including shows on art, history, and contemporary issues. Every even year, we produce our Heroines Quilt series, which celebrates the incredible women who inspire us.
We also occasionally produce physical events and showcases. These include celebrations of our virtual exhibits, panels on girls' media and issues, and presentations at conferences.
Podcast
Girl Museum also produces GirlSpeak, a podcast series all about art, history, and culture from a girls' eye view. Each month, we present a special topic on girls' culture - ranging from historical accounts of real girls to analysis of girls' art and artifacts. We also produce special podcasts featuring interviews on girls' issues, and end each month with a round-up of girl-related news from around the globe.
Check out our podcast page for these and a round-up of girl-related podcasts, and be sure to subscribe to us on iTunes or Podbean.
Participatory Projects
Want to contribute to our exhibitions? Contact us with your ideas, or consider contributing to our participatory projects, including: