We are a part of everything we have come from. Our ancestors' experiences created the world that we now inhabit. Often, their lives are described in clues all over our houses.

So what can we learn from the tangible objects that have been passed down within our families?
Heirloom is a participatory exhibition that provides an opportunity for girls to learn about their own families' histories through interviews and researching old photographs, artifacts, and heirlooms.
Girl Museum aims to empower girls with knowledge and understanding of the present day through learning about the past. This fit perfectly with the 2013 International Museum Day theme, Museums (Memory + Creativity) = Social Change, so we have partnered with Chick History to produce our HEIRLOOM project.
To participate, view the contributions below to gain inspiration.  Next, scroll down to review our instructions via downloadable PDF that will help you journey into your family's past.  Then, send us a picture of your heirloom and its story, and we'll feature it in this exhibit!  Contributions are accepted on an ongoing basis.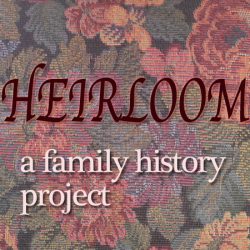 Recipe Card
My grandmother's grandfather Matt lost both of his parents when he was very young. Since he came from a large family, his living relatives could not care for him and all of his siblings, so he was sent to live in an orphanage. When Matt was a teenager, he came to America from Holland with a group of other children from the orphanage. It was here in the states that he met and married his wife Kate. They settled in a Dutch community in Demotte, IN where they began to help fellow immigrants from Holland settle into America. They would help them find jobs and even host them until they had a place of their own to live.
While she was doing research into our family history, my grandmother actually discovered that one of the couples her grandparents took under their wing after they left Holland was my grandfather's, her husband's, grandparents. Once they got established in a home of their own in the States, my grandfather's grandmother Nellie sent my grandmother's grandmother Kate, whom they had stayed with, this recipe card for Santa Cookies. Written on the bottom of the card is a note inviting Matt and Kate to visit their new home if they are ever in the area.
– Emily VanderBent
Brass Rubbings of a Grandmother
This brass rubbing is one of three that my grandmother rubbed herself during my families time living in England almost 50 years ago. This rubbing of an unknown lady was done in the 1970s before the Westminster Abbey disallowed people to do rub their own pieces inside. My grandmother never told us who this brass rubbing was of, but she did always mention the lady's funny hat, which I suspect is probably why my grandmother chose her.
My grandmother brought these back to Texas with her and unfortunately had them sitting in her house, rolled up, until after her death. She always wanted them framed and hung and talked about them often. When my mother inherited them, she asked me to get them matted and framed for better preservation. They have been hanging in my parents home ever since.
I absolutely love these rubbings and the story behind them. My grandmother loved history as much as I do, especially the odd and quirky history, so I can easily imagine my wily grandmother rubbing away at these, making jokes, and laughing. And it makes me smile.
— Ashley Winder, Texas, USA
Hand-made Pillow Case
My mother received this pillow case from her grandmother in 1981, when she was around 10 years old. I remember when I first saw it, I was amazed at how beautiful and detailed these patterns are. I learned that my great-grandmother sewed these herself. For her generation, all girls know how to sew since they were young.
My mother was raised by her grandmother in the Chinese countryside, her parents were too busy to raise another child at the time, so she was sent to my grandmother when she was only months old. Growing up in the countryside, my mother had a happy and carefree childhood. She was very close with her grandmother. Over the years, she often recounts her childhood memories to me as one of the happiest times in her life.
When my mother turned 10 years old, her grandmother twisted her feet accidently, therefore unable to continue taking care of my mother. She had to returned home to her parents in the city.
My great grandmother sewed this pillow case for my mother when she was leaving. My mother never used it. She carefully saved it and cherished it until today.
-Mengshu Ye
With Love From France...
This beautiful lead crystal bowl was given to my mother by her grandmother. I have always admired it because it seems so unique. It came into my family when my grandfather sent it home from France for his mother, who handed it down to my mom. Upon asking more about it, I learned that it was from the Baccarat crystal factory in France.
My grandfather was stationed in Toul, France while he was in the army. He bought the bowl in Nancy, France. It was very expensive when he bought it, and then the post office would not insure it when he tried to send it home. Luckily, my great-grandmother received the bowl in Michigan in perfect condition.
— Hillary Hanel, Michigan, USA
Grandmother Rene's Ring
To me this silver ring, decorated with turquoise and coral, has always been a family ring. I received it from my mother shortly after beginning college. I remember her making the remark that it seemed to "fit me". Knowing who I've become, I like to think she meant my spirit. The ring once belonged to Laurene Dinsmore (Pruiet), my great-grandmother. She passed away when I was very young so I did not get a real chance to know her.
Growing up I heard stories that she had supported the Republican Party but I did not know to what extent. In recent years and after turning to the internet, I was able to connect childhood stories to some newspaper clippings. Not only did it confirm her involvement in the party, but it also named her as chairwoman during the campaigns of 1952 and 1956. Campaigns that supported former President Eisenhower. I am told that she wore the ring along with several other pieces as symbols of the State of New Mexico to the National Conventions for those years. I find it rather amazing how one small ring can connect you, not only to your family, but also to larger events of the past.
– Brittany H.
The Royal Birthday Book
When Sarah McFarlane left Scotland in September 1884, she had just turned 16. Sailing on the Lady Jocelyn with her parents and 13-year-old sister, Joan, Sarah was bound for a new life in Auckland, New Zealand. On such a significant personal journey, Sarah carried with her a small book titled the Royal Birthday Book. With an emerald-green cloth cover, golden embossing, and gilt edges, this tiny book is lavish: fit for its proclaimed royal status.
There are 20 handwritten names inscribed in the birthday book, including the names of Sarah's five sisters, her aunts and uncles, and a few friends—both from Scotland and New Zealand. Sarah is my Great-Great-Aunt, and her book has travelled down through the generations to land in my care. I was intrigued by the inscription on the front page:
"With best wishes to Sarah McFarlane from her loving companion, Maggie McConachie, 22nd Sept 1884.' So I set out to solve the mystery: Who was Maggie McConachie?
After much research, I finally found her. Margaret (Maggie) McConachie was only a few months younger than Sarah McFarlane. From at least 1881, Sarah and Maggie both lived in the same housing block, at 13 Antigua Street, Renfrewshire. As an only child living with her widowed moth, Maggie likely gravitated towards the large McFarlane clan with their six daughters, and particularly to Sarah, who was the same age. The Royal Birthday Book was a parting gift between girlhood friends. Three days after Maggie inscribed the Royal Birthday Book, Sarah set sail for Auckland—never to return to Scotland. Maggie remained in Renfrewshire, eventually going on to study music.
The two friends likely did not see each other again, but the strength of their friendship endures in the beautiful Royal Birthday Book. I am lucky to have such an heirloom that shows how far gifts of friendship can travel.
– Rosalie E.
Discover Your Story
Ready to learn about your family heirloom?
Need a handy-dandy research guide?
We've got all the questions, suggested resources, and steps to help you get started.