We are a part of everything we have come from. Our ancestors' experiences created the world that we now inhabit. Often, their lives are described in clues all over our houses.

So what can we learn from the tangible objects that have been passed down within our families?
Heirloom is a participatory exhibition that provides an opportunity for girls to learn about their own families' histories through interviews and researching old photographs, artifacts, and heirlooms.
Girl Museum aims to empower girls with knowledge and understanding of the present day through learning about the past. This fit perfectly with the 2013 International Museum Day theme, Museums (Memory + Creativity) = Social Change, so we have partnered with Chick History to produce our HEIRLOOM project.
To participate, view the contributions below to gain inspiration.  Next, scroll down to review our instructions via Prezi videos and downloadable PDFs that will help you journey into your family's past.  Then, send us a picture of your heirloom and its story, and we'll feature it in this exhibit!  Contributions are accepted on an ongoing basis.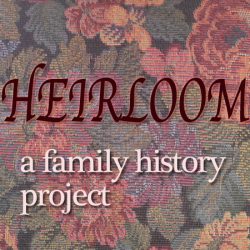 With Love From France...
This beautiful lead crystal bowl was given to my mother by her grandmother. I have always admired it because it seems so unique. It came into my family when my grandfather sent it home from France for his mother, who handed it down to my mom. Upon asking more about it, I learned that it was from the Baccarat crystal factory in France.
My grandfather was stationed in Toul, France while he was in the army. He bought the bowl in Nancy, France. It was very expensive when he bought it, and then the post office would not insure it when he tried to send it home. Luckily, my great-grandmother received the bowl in Michigan in perfect condition.
— Hillary Hanel, Michigan, USA