Although we may not read about them in the record books, there is no doubt that girls and women have owned businesses throughout our history. They have done this despite social values restricting their choices and placing barrier after barrier before them. We look at girl entrepreneurs past and present from a round the world , their incredible achievements. and the challenges they have faced to get where they are today.
"Believe that you have the power to make a difference. If you are young, people will often time doubt your ability to act on your large, change making ideologies; but despite the naysayers and saboteurs, if you believe in yourself you will be so surprised to see how much of an impact you the capacity have to make."
Jasmine Burton
Founder, Wish for Wash
As Jasmine points out, girls of all ages have the power to make a difference. Through the course of this exhibition we'll meet girl entrepreneurs who are making a huge impact with their inventions, ideas, and knowledge. It's time to bring these girls to the forefront and showcase what they have accomplished.
There were an estimate 163 million women self-employed across the globe in 2016, and yet, the World Bank survey found 155 out of 173 countries still had at least one law impeding economic opportunities for women. 18 of these countries still have laws that give the husband the right to prohibit their wives from working outside the home. Despite these statistics, the number of female entrepreneurs is on the increase and we are starting to hear about their remarkable contributions to the business world.
Girl Entrepreneurs of Our Time
Curatorial Essay by Claire Amundson
Many of us think of entrepreneurs as successful business men/women selling services or products to make a profit for their own benefit. They are people who have started their own business, taking on financial risks, and built a small empire from scratch. Some entrepreneurs are able to grow their business. A small local business, for example, may become successful enough to open more premises in different locations like British designer Cath Kidston. Alternatively, an unknown writer might see their fictional world become a global success overnight with their book series turned into films, merchandise, a theatre show, and even adventure parks. Yet, there are many young – and upcoming – entrepreneurs out there starting their own business with the aim to improve our way of life through an innovative product or service.
Why
For this exhibition, we conducted detailed research into the reasons behind starting a business, and even asked girl entrepreneurs the question directly. It soon became clear that the inspiration for many girls to start their own business came following a new idea, or more accurately, an innovative step forward. These girls have since utilised the business industry to help them take their innovative ideas to the next level and develop their new products or services further.
To illustrate the reasons behind starting a business let us look at the following specific examples:
Wish for WASH:

Jasmine Burton and her team are working to find a workable design solution to the sanitation problems faced by many girls in some areas of the world. This came following the discovery that young girls in some countries drop out of school because of poor toilet facilities.
Yellowberry:

Megan Grassell designs and makes stylish, comfortable, and appropriate bras for young girls so they can feel confident in whatever they wear. The inspiration for her business came after a shopping trip with her sister.
SmartCane:

Riya Karumanchi is working to infuse cutting-edge smart technology into the familiar white cane to assist the blind and deaf community increase their independence. The idea to revamp the traditional white cane sparked into life after watching her friend's grandmother bump into tables and lamps to navigate her own home.
Girls Helping Girls. Period:

Emma and Quinn Joy started their business to help girls and women in poorer communities get the feminine hygiene products they desperately need. Their venture helps to raise awareness about the issue and teach others about the difficulties faced by some to afford the products.
Black Butterfly Beautiful:

Journi Prewitt took her passion for reading and black heritage to create a subscription box service for young girls of colour as a way of encouraging them to learn more about their history and culture.
Girls With Ideas Inc.:

Allison Poss responded to research that revealed women struggle to see themselves as leaders by developing a curriculum to help teach young girls to be confident, creative leaders. The work she does includes delivering workshops at schools to encourage girls to think of themselves as leaders.
As you can see, each company above has a new and unique idea for a product or service that fills a gap in the worldwide market. The key, however, is that the stories behind their inspirations have similar foundations whereby an experience has prompted them to take the lead and make change. These young girls aim to improve the world we live in and make a difference to communities across the world with their products and services. The SafiChoo toilet, for example, would help many communities with poor sanitation facilities by removing latrine pits. A little closer to home sees Yellowberry bras provide girls a place where they can buy underwear suitable for their age group, rather than a leopard print push-up bra. The potential impact of these innovative products and services is huge as more and more girl entrepreneurs seek to help our way of life and offer an affordable solution to a seemingly neglected problem.
How
The ways in which girls have started their own businesses varies and each of the below examples illustrates a different way in which young girls have started their own business:
Wish for WASH

used the $25,000 funding received from winning the InVenture Prize competition to travel to northern Kenya on a pilot trip and test their SafiChoo toilet seat design in a refugee camp. This helped the team improve the design that was tested on a second pilot project in Zambia supported by an Indiegogo crowdfunding campaign that raised a further $25,000. The trial received positive feedback from the community and the team are hoping to expand their tests to scale an entire city.
Yellowberry

founder and CEO, Megan Grassell, used the small savings earned from her summer jobs to order materials and employ a seamstress to put together prototypes of her new bra designs. She then found a mentor to advise her on how to run a business and put together an informal focus group made up of family and friends for feedback on how the bras fitted. It was after selling the first three batches of orders sold out that Megan decided to expand and used Kickstarter to raise the funds needed. The campaign went on to raise nearly $42,000 to help with the next phase of her business.
SmartCane

started out as a school science fair project. Innovator, Riya Karumanchi, wanted to take her prototype further and came across the Hacking Health Hackathon where one of the judges offered her an internship at MEDIC (a software development lab focused on eHealth solutions) to move her invention forward. Shortly afterwards, the SmartCane won an extended two-month hackathon called 'HackABILITY' and received $37,000 in prizes. The project also gained help from investors such as ICUBE at UTM, Microsoft, Inertia Engineering, Arrow Electronics, UrStart, Spacebar and the RIC Centre.
Girls Helping Girls. Period

was a campaign launched to collect feminine hygiene products and raise cash donations to purchase tampons/sanitary pads/panty liners for girls and women in need. The Founders, Emma and Quinn Joy, seek to raise awareness of the issue through their business and encourage others to find ways to collect the items needed. The company gained wider notice from the Reform congregation when their mother (Executive Producer) spoke at an event hosted by the Women's Connection (TSTI's multi-generational women's group) to raise awareness of the campaign. The response was huge and articles about the venture hit national news sites such as the Huffington Post.
We can see from the examples above that there is no one way to start a business. Some girl entrepreneurs enter national competitions with an innovative idea and use the prize money to fund initial costs if they are fortunate enough to win. The chance to present an invention or prototype at these events often leads to further opportunities, and can even attract the attention of investors. For others, starting their own business is the next logical step to take because their initial idea has become so popular. The rest simply fundraise, and a large source of support for entrepreneurs today comes from crowdfunding campaigns. Modern technology has transformed opportunities available for girls and young women. The internet means that a single innovative idea posted on a crowdfunding website (such as Kickstarter or Indiegogo) is accessible to thousands of people from all over the world. Social media (such as Facebook and Twitter) then allows a person to share their idea with others and utilise a form of marketing to reach a potentially large audience. These tools have become an important part of business start-ups and marketing campaigns as a result.
Concluding Thoughts
The examples above demonstrate the reasons why girl entrepreneurs start their own businesses and how they go about doing this. Many girls start with an innovative idea and one aim, which is to improve our way of life and make a difference to communities near and far. One innovative idea, no matter how simple or complicated it may be, can spark an incredible journey into the business world. The path in which girl entrepreneurs have followed varies and there is no doubt that opportunities for girls and young women are increasing. Our research indicates that there are more and more funding schemes available to help girls and young women move forward with their ideas. Meanwhile, easier access to modern technology gives us more freedom, more opportunities, and a place to share our ideas. The incredible girls showcased in this exhibition are in my view leading the way for young entrepreneurs across the globe and are working hard to make change in a historically male dominated society. They have faced some challenges along the way, for sure, but perhaps the barriers of old are finally starting to collapse in a more modern world.
Twitter: @jasminekburton or @wishforwash
Instagram: @jasminekburton or @wishforwash
Jasmine Burton
Founder, Wish for WASH
Atlanta, USA
You've said previously that your inspiration to start Wish for WASH was a talk at the Women's Leadership Conference back in 2011. Tell us more about that moment.
In 2011, as a freshman at Georgia Tech, I was inspired to do something about the global sanitation crisis at a women's leadership conference. I learned from a Georgia Tech alumna and one of my female mentors that nearly half of the world doesn't have access to a toilet; of those people, women and girls are disproportionately burdened. Specifically, I learned that pubescent girls in the developing world frequently drop out of school as a result of their schools lacking toilets. As a product designer and woman in higher education, this reality angered me to the point that I left the conference and called my mom to say " I know what I am supposed to do. I am supposed to design toilets". This declaration about my destiny was made at the wise age of 18 and was fueled by my design education. Three years later, my senior design team was the first all-female team to win the Georgia Tech InVenture Prize Competition, the largest undergraduate invention competition in the United States. Subsequently, I had the incredible opportunity to further design and pilot the SafiChoo toilet for the Kakuma refugee camp as a part of an interdisciplinary senior design capstone with Sanivation.
Where did you go from there?
In 2015, I led our Indiegogo crowdfunding campaign that was over 100% funded to support our 2016 Zambian beta pilot conducted during my Global Health Corps fellowship. After securing funding, we manufactured, shipped, installed and monitored the newest version of the SafiChoo toilet in tandem with Water and Sanitation for the Urban Poor Zambia (WSUP) and the Lusaka Water and Sewage Company (LWSC). Ultimately, we were successful in implementing a 10-week beta pilot of a water-based pour-flush version of the SafiChoo toilet that was conducted in a peri-urban compound in Lusaka, Zambia. SafiChoo received positive feedback from the community and project stakeholders, which has led to an interest in scaling our toilet in the city. We have since piloted a dry, self-contained version of the SafiChoo toilet in a secondary pilot in a resettled refugee farming area of Atlanta, Georgia. More information about our Zambia pour-flush toilet pilot can be found here. Additionally, we conducted another pilot of our SafiChoo toilet but this time as a dry-waterless toilet in tandem with the Atlanta based organization, Global Growers. More information about our Atlanta-based dry toilet pilot can be found here.
While seeking funding to scale our manufacturing processes for a market viability pilot, we are currently launching the educational arm of the Wish for WASH organization in tandem with Atlanta-based educators and schools that have supported our story and mission over the years. From 2016-2017, I was an MSc in Public Health Candidate and Rotary Global Grant Scholar at the London School of Hygiene and Tropical Medicine. After completing my degree, I began work at the Toilet Board Coalition to conduct research on business models for sanitation startups across world. I was a part of the Toilet Board Coalition's release of the Sanitation Economy, which is a robust marketplace of products and services, renewable resource flows, data and information that could transform future cities, communities, and businesses in 2017. Beginning in 2018, I began working at the Centers for Disease Control and Prevention as a Health Communications Specialist in the Division of Global Health Protection and have worked to merge my design and public health knowledge to best advocate for the health and well-being of marginalized communities. Each phase of my journey included doors opened to me by my communities of support, inclusive of my family, friends, Georgia Tech staff, students and alumni. These opportunities have enabled me to grow as a girl entrepreneur and thought leader. My work as a Social Inclusion Specialist with Equilo is emblematic of my quest to keep women's empowerment central to my work through representation in leadership and rights-based advocacy and research. These professional and educational experiences have helped me to continue working with my incredible team, many of whom are girls in STEM, with a public health and business lens. Wish for WASH launched an educational WASH coloring ebook in 2018 as a fundraiser to support our manufacturing processes for an upcoming market viability pilot in Zambia which is intended to inform and support scaling the SafiChoo toilet while empowering the peri-urban communities in which we work – with a particular focus on women's empowerment and gender equality.
What challenges have you faced as a girl entrepreneur and how have you overcome them?
It is challenging to be operating in a space that I was not formally trained in (ie designers do not usually learn about working in the social sector in traditional education programs) as a young minority woman. Prejudices in many forms permeate conversations with people from difference sexes, cultures, races, generations, and countries which often times make work feel like an uphill battle. I am empowered by the people who have come before me as inspiring trailblazers for social change, particularly young Georgia Tech girl entrepreneurs who are also women of color like Joy Buolamwini and Jasmine Lawrence. I work to overcome stereotypes and actively communicate. I ask a lot of questions and am a fast learner so between my mental capability and my incredible mentors and role models, I work tirelessly toward my goal which is my #wishforwash.

Your mission has been to change lives for those girls who live with such poor sanitation that it prevents them from going to school. How many communities has the SafiChoo toilet aided since you started the business?
Over two billion people in the world today lack access to improved sanitation. What's more, over four billion people lack access to safely managed sanitation. As a result, many people use unimproved pit latrines or holes in the ground that they share with neighboring community members. These may be overflowing, poorly maintained and far from home. These latrines are also prone to collapsing during inclement weather, and can spread fecal waste into the ground and surface water sources. People living in densely populated communities without sanitation facilities often have to resort to open defecation .This can lead to a host of both mental and physical health problems. Due to social stigmas and gendered expectations, women frequently wait until the nighttime to use the toilet or openly defecate which leaves them vulnerable to sexual assaults. Additionally, the lack of toilets in schools makes it challenging for young pubescent girls to manage their menstruation safely. Consequently, many miss school during their period every month or drop out completely. I believe that women can help tackle poor WASH systems in marginalized communities by providing both culturally specific and empowering infrastructure and services for their female counterparts. This is a movement what we are hoping to help positively contribute to through Wish for WASH. Since Wish for WASH operates as a lean startup that utilizes design thinking methodologies, we work to fail fast and fail cheap. We have since pivoted the design based on user feedback after piloting the toilet with female-headed households and with female translators in 3 communities and are now looking to solidify funding to begin working towards larger scale production with an initial focus on households in informal settlements of Lusaka, Zambia.
While seeking funding to scale our manufacturing processes for a market viability pilot, we are currently launching the educational arm of the Wish for WASH organization in tandem with Atlanta-based educators and schools that have supported our story and mission over the years. From 2016-2017, I was an MSc in Public Health Candidate and Rotary Global Grant Scholar at the London School of Hygiene and Tropical Medicine. After completing my degree, I began work at the Toilet Board Coalition to conduct research on business models for sanitation startups across world. I was a part of the Toilet Board Coalition's release of the Sanitation Economy, which is a robust marketplace of products and services, renewable resource flows, data and information that could transform future cities, communities, and businesses in 2017. Beginning in 2018, I began working at the Centers for Disease Control and Prevention as a Health Communications Specialist in the Division of Global Health Protection and have worked to merge my design and public health knowledge to best advocate for the health and well-being of marginalized communities. Each phase of my journey included doors opened to me by my communities of support, inclusive of my family, friends, Georgia Tech staff, students and alumni. These opportunities have enabled me to grow as a girl entrepreneur and thought leader. My work as a Social Inclusion Specialist with Equilo is emblematic of my quest to keep women's empowerment central to my work through representation in leadership and rights-based advocacy and research. These professional and educational experiences have helped me to continue working with my incredible team, many of whom are girls in STEM, with a public health and business lens. Wish for WASH launched an educational WASH coloring ebook in 2018 as a fundraiser to support our manufacturing processes for an upcoming market viability pilot in Zambia which is intended to inform and support scaling the SafiChoo toilet while empowering the peri-urban communities in which we work – with a particular focus on women's empowerment and gender equality.
You have made such an incredible impact so far with the SafiChoo toilet and your recent pilot project with students at Paideia School to investigate, design, and conceptualize a composting toilet prototype (building is still in the works). What are your hopes for Wish for WASH in the future?
As I continue to grow as a public health practitioner and WASH (water, sanitation and hygiene) professional, I seek to continue bridging the multi-sectoral nature of this work. My aim is to enable a range of stakeholders from design-thinkers to end-user communities to be part of the global movement to accelerate access to improved sanitation for all. As Founder and President of Wish for WASH, I seek to test our toilet concept at a larger scale to contribute innovation to the low-cost toilet market to spur increased diversity in product cost and cultural sensitivity particularly as it relates to women's empowerment. Additionally, I work as the Program Manager at the Toilet Board Coalition and as a Health Communications Specialist the Centers for Disease Control and Prevention in the Division of Global Health Protection to engage both private and public sector actors in collaborating and accelerating progress towards the 6th United Nations Sustainable Development Goal ; the lack of improved sanitation on a global scale is both expensive and dangerous particularly as it relates to infectious disease outbreaks. I work at the intersection of social enterprise, smart sanitation, private sector engagement, and global health communications to help bring more diverse knowledge to the WASH sector. My experiences as a global grant scholar gave me the opportunities to help drive the tipping point of change for this sector with the incredible colleagues with whom I get to work.
What has been the most surprising part of your journey as a young girl entrepreneur?
Often starting the journey as a social entrepreneur can feel like the most courageous task. However, as Wish for WASH has grown and evolved, I have learned that the most courageous thing that a social entrepreneur can do is to keep going. Despite the doubt, working in the global health sector as an entrepreneur is like chartering unknown waters every day. Even if the mission that you set out to accomplish proves 'unsuccessful', the learnings that you have and worldview that you bring creates a sector wide memory from which we can collectively grow, iterate and preserve. The story of your work is enough to create ripples of social change in society. And to me, that is what it means to be a social entrepreneur. This learning from my Wish for Wish experience has helped me to realize life's mission – to amplify the voices of women, particularly women of color, so that they are more effectively included, involved, and heard from the start of work that effects the designed and built worlds in which we all live. Ultimately, I have been inspired to continue to lift as I climb in my girl entrepreneur journey.
What advice do you have for girls wanting to become, or are starting out, as entrepreneurs?
Innovation and social impact work in India is incredibly inspiring and it is exciting to see a movement of young people interested in building a better and more equitable future for their communities. My advice listed below really is led by my call for more STEM in the social sector:
1) Gain a hard skill: Whether that's coding, designing, engineering, or even knowing a language, hard skills are imperative in effectively conducting social impact/humanitarian work. In a world suffering from extreme poverty, malnutrition, violence, and inequity, we need more doers, creators, and makers working in this space in tandem with the policy makers, international development officers, and business professionals to create holistic and interdisciplinary solutions to more effectively make sustainable change.
2) Develop a global awareness: Make an intentional effort to increase your global awareness by watching the news, reading newspapers, and knowing about current humanitarian events/crises. From this awareness a passion can be born from which meaningful social impact work can emerge.
3) Invest in people: Aligning yourself with insightful mentors and partners who are seeking to make similar changes and with whom your work parallels. Social impact work requires developing meaningful relationships in order to gain traction and to do work that actually is making a difference.
4) Believe that you have the power to make a difference. If you are young, people will often time doubt your ability to act on your large, changemaking ideologies; but despite the naysayers and saboteurs, if you believe in yourself you will be so surprised to see how much of an impact you the capacity have to make.
Megan Grassell
Founder, Yellowberry Company
Wyoming, USA
You've said previously that you decided to start Yellowberry after going shopping with your sister for her bra and discovering the shocking options available. Tell us more about that moment.
It was a moment of huge frustration – why were the only options for her (and girls in general) overly sexualized or of such poor quality? Why had no one decided to make better options? And, for an experience that all girls will go through (buying their first bra) it was such an exciting moment to figure out how I could make that empowering, exciting, and perhaps even something to look forward to!
Starting a business at such a young age must have been exciting! How did you go about this?
Exciting – yes! Overwhelming and not knowing what to do? Also, yes! I had to just take it one day at a time. So in the very beginning that means things like "How do I make a bra? Where can I find fabrics, a factory, and how will I sell them?" As well as, "How do I build a website, how can I market my products?" As the company has grown, I've learned a TON along the way. So as a young CEO the questions are: Where are we going, who should we hire, should we raise outside capital, how can I be a better leader?
What challenges have you faced as a girl entrepreneur and how have you overcome them?
As a young girl starting this company, it used to make me quite angry when I would explain my idea to an adult and they would say things like "That's so sweet. Good for you for having such a cute idea!" rather than actually see what I could see in building this company and take me seriously. Looking back, many friends I've made along the way who are men did not experience that same dynamic. It pushed me, and other young women who have started businesses at a young age, to work extremely hard to build their company, earn the respect form people around them, and ultimately to prove the validity of their idea.
Something that we've recently launched at Yellowberry is a campaign to Take Girls Seriously. The idea behind that comes from my own struggles to be taken seriously as a young founder, and what can I do today to help validate and give voice to young girls like me. We do that with this campaign by hiring them to do legitimate work for my company! So, anything from photography, product development, copywriting, and even social media – it's been fantastic. Giving girls the opportunity and a platform to share their talents and skills has been an amazing asset for Yellowberry, but also a great experience for the girls involved!
Your mission has been to make stylish, comfortable, and appropriate bras for young girls so they can feel confident in whatever they wear. Do you feel you have achieved this based on product sales and feedback?
Absolutely. Our customers come back over and over again, and the reviews and feedback we receive each day are incredibly positive. The girls absolutely love the products, and what we have achieved with giving girls confidence with comfortable and fun basics, although it's always a work in progress, has been really exciting!
You have made such an incredible impact so far, and achieved so much as a young entrepreneur. What are your hopes for Yellowberry in the future?
Thank you so much! As we move forward, we look into building more products in new areas, continuing to grow the brand, as well as finding new ways to continuously build our community of Berry Girls out there.
What has been the most surprising part of your journey as a young girl entrepreneur?
That is tough – I guess I would say that I never realized that you could honestly look forward to the work you do every single day… That it's possible to feel incredibly satisfied with what you're building, and that your job as a founder becomes so much of your life! And, ultimately it's not about me because what we're doing is something that will touch the lives of so many girls across the country and across the world! That's an incredible feeling, and one that inspires my team and I every day.
What advice do you have for girls wanting to become, or are starting out, as entrepreneurs?
My favorite piece of advice is: If the worst answer they can give you is "no," then you should always ask the question.
Melanie Blanding
Co-Founder, Women in War Zones
Virginia, USA
When and how did you first become involved in using your photography to advocate on behalf of humanitarian issues, peoples and cultures?
In the summer of 2005, I was part of a small team assessing a humanitarian response in the Democratic Republic of the Congo and in what was, at the time, southern Sudan (now the new country of South Sudan). Most of my work up to that point was working for traditional editorial news outlets – newspapers, magazines, wire agencies – and objective reporting was the standard expectation. Just the facts. As a humanitarian photojournalist that summer, I was allowed to express not only my horror at the crimes against the women I met, but also see my pictures used in calls to action. I realized it wasn't enough for me to report objectively about some very serious issues. I felt like my contribution and work as a photographer was better served when I could openly condemn acts of extreme cruelty and be used through advocacy to improve the lives of the individuals I met.
You have used your photographs to raise awareness of Women in War Zones and document the sexual violence thousands of women living in war zones face on a daily basis. What challenges have you faced when using your photography to capture and document visual stories about humanitarian issues from around the world?
One of the hardest challenges is recognizing that even a "long term" assignment of 3-6 months for a photojournalist (or 12-24 months for humanitarian aid workers in other capacities) is just a brief moment in women's and other beneficiaries' lives. The solutions to problems of the magnitude they're facing can rarely be resolved in such a short amount of time. As foreign aid workers, we nearly always pack up and move on to another war zone, developing country, or back to our home country at the end of our contracts. We have the luxury of choice, safety, and stability.
Packing up and leaving is not an option for the vast majority of the women and families I've worked with over the years. I'm a task-oriented problem solver and hated leaving the women I developed close friendships with knowing they were going to continue facing major life challenges that weren't resolved by the time I departed. Their hope and faith taught me about resilience in the face of adversity and, perhaps most critically, about the importance of home-grown solutions that fit their cultural context and communities. These are smart, motivated, inspirational women who don't need me to come save them, though I played my part, and was able to contribute as a guest in their lives.
I faced physical and logistical challenges while photographing in the DRC (Democratic Republic of Congo), Uganda, and in Dadaab (the world's largest refugee camp along the Kenya-Somalia border), but it's nothing compared to the challenges the individuals who shared their stories and lives with me faced on a daily basis. I'm thankful and honored for their willingness to be patient with me while sharing some of the most traumatic experiences of their lives with a practical stranger. I could not have done any of the work I did without the support of an extensive network of local members of each community. They are often the unsung heroes of the international humanitarian aid industry. Without them, none of the work the international community attempts would be possible.
Your photographs have a profound impact on the viewer as they tell the stories of those girls and women who have suffered sexual violence. Which of your humanitarian projects are you most passionate about, and why?
Definitely the Women in War Zones work in the DR Congo. It was my first major documentary project and I returned three summers in a row. I initially lived in the hospital compound where the women I was photographing also lived. We spent all day every day together. Time and proximity fostered close relationships with women and families in the community that continue to last today. Those relationships made it possible to make impactful photographs.
Have you seen your photographs bring about real change to the people or issues you are passionate about capturing?
As a freelance photographer, I didn't actually see the change or impact that my work had very often. I think the organizations and publications I've worked for were more often the one's to hear people's reactions and responses generated by my work. One of the rewarding aspects of being part of a small organization like Women in War Zones is that I witnessed the direct impact my work had. We raised funds for women to continue their education and to help cover the cost of medical care so that burden would not fall to the women when they had far too much else to worry about. We started a small library and taught vocational skills, such as sewing, so that women would have a skill through which they could support themselves and their children while restoring their dignity after trauma.
What are your hopes for the future?
I hope I am able to merge two interests I'm deeply passionate about – photojournalism and speech-language pathology – in order to better help the individuals and communities with whom I work. I'm in the midst of a career shift right now as I finish graduate school for a degree in speech-language pathology.
It came about through work I started as a photojournalist, then teacher in Sudan. As a photojournalist, I frequently had assignments in health care facilities in developing countries and/or conflict zones. I was exposed to some cases of individuals whose speech and language ability was affected by trauma, both physical and mental. Then, in the school where I taught in Sudan, some of my middle school students had untreated speech and language disorders that would typically be addressed by that age in the United States. As a teacher, I wanted to be able to help my students more, but was limited by education and experience in regard to speech-language disorders and therapy. I realized I could continue working in the communication field, but with a shift of focus from mass communication as a photojournalist to personal communication as a speech-language pathologist. The cool thing about both photojournalism and speech-language pathology is that they're incredibly diverse fields that allow a lot of creativity. I'm hopeful there's a way I can combine both after I graduate.
What has been the most surprising part of your journey as a humanitarian photographer?
Early on in my career, I was surprised that being a good photographer wasn't enough to make it as a professional photographer. The reality is that there are a lot of talented photographers out there and as the way we consume media changed with smartphones and the internet, it simply wasn't good enough to be a good photographer. You have to be a good businesswoman. That means having a clear vision of what you hope to produce professionally, then to be able to make a plan and put that plan into action.
When I told people about my career they were impressed because it sounded like one big adventure all the time – and there were plenty of adventures. There were also a lot of phone calls and emails to editors trying to drum up assignments, there was logistics and networking to problem solve how to fulfill assignments in foreign countries where I didn't always speak the language or know my way around, there was negotiating to be sure I was paid a fair rate…and following up with editors to be sure I actually got paid! I had to think like an entrepreneur first so that I could be a good photographer.
What advice do you have for girls wanting to become, or are starting out as, photographers who use their work to advocate key messages?
Respect the men, women, children, and anything else (like forests or animals) for whom you're advocating. These are real people with real feelings, most of whom are up against unbelievably challenging, emotional circumstances. They deserve to be treated with dignity and respect in the midst of their circumstance.
Also, issues worth advocating for often have complicated perspectives to consider when coming up with a solution. Take poaching for instance. It's awful to hear about the cruelty elephants and rhinos suffer, not to mention the risk of extinction, when poachers kill them for their ivory. On the other hand, many of the poachers are very poor and see these wonderful animals as a way to sell something valuable in order to feed their families. A more sustainable future, instead of just advocating to protect the animals, is to advocate for the people in nearby communities as well. By creating alternative opportunities for education and jobs, it encourages people to stop poaching and seek better ways to earn a living that are good for people and animals.
Believe in yourself and be confident, but don't forget that we can all learn, at any age, how to keep improving both in our art as photographers and as professionals who rely on a network of others to do our jobs well. Even freelance photographers have to work like they're on a team in order to fulfill assignments and make sure the message they're advocating gets out.
What do you feel are the most important skills and equipment to possess in order to be effective in advocating on behalf of peoples and cultures?
Being a good listener is so important. I've heard a proverb, though I can't remember who it's attributed to now, that God gave us two ears and one mouth so we could listen twice as much as we talk. It's crucial to listen to the people and communities for whom we advocate. I saw that as a photojournalist and I see it now as a speech-language pathologist. Smartphone technology has advanced so much that more people than ever can take well composed, well exposed, story-telling photographs. Not everyone is ethical or respectful of the people they photograph though. If you listen well to the people you're advocating for, then you are more likely to actually help them in a way that's meaningful to them.
Girl Entrepreneurs of the Past
Girl entrepreneurs of the past lived in a male dominated world where traditional family values reigned. For a long time, laws in the UK meant any property held by women transferred to their husbands as soon as they married. They could not then inherit property on equal terms as their husbands until 1922. Girls learned from a young age how to care for their husbands, homes, and children whilst men dominated all decision-making in political, legal, and economic affairs. A second world conflict in 1939 would change these values forever. From the 1950s, girls not only received a better education, but the lure of extra earnings to buy luxuries for the home and an annual holiday brought more and more women into the workplace.
Annie Malone
Poro (brand of beauty products and a college that opened in 1917)
During the late 19th century, African American women used soap, goose fat, and heavy oils to straighten their hair. Chemical straighteners often damaged the scalp and hair follicles. Annie Malone developed a chemical product that straightened African American hair without damage. Her products provided a way for African American women to improve themselves on many levels. At a time when few career opportunities were available, Poro offered them a chance at economic independence. Malone believed that if African American women improved their physical appearance, they would gain greater self-respect and achieve success in other areas of their lives.
She also built Poro College as a gathering place for the city's African Americans, who were denied access to other entertainment and hospitality venues. During the early 20th century, race improvement and positive self-image were seen as a way to increase social mobility. By teaching deportment, Malone believed she was helping African American women improve their standing in the community.
Challenges she faced:
Illness caused her to leave High School without finishing.

In 1902, Malone moved her business to St. Louis, Missouri, where she hired and trained three assistants. As black women, they were denied access to traditional distribution systems, so they sold the products door-to-door and provided free demonstrations.

In 1903, Malone married Mr.Pope, but she divorced him after a short time because he tried to interfere with her business.
Coco Chanel
Chanel
"The most courageous act is still to think for yourself. Aloud."
Raised in an orphanage by nuns, the young Chanel learned the skill of sewing in order to become a seamstress. At the age of 20, she had opened her own millinery (women's hat) business in Paris that eventually became the house of couture that is is today. Chanel has been credited in the post-World War I era with liberating women from the constraints of the "corseted silhouette" and popularizing a sporty, casual chic as the feminine standard of style.
Debbi Fields
Mrs Fields Cookies (founded when she was 21)
"I could hear my father's voice telling me that wealth was doing what you loved, and what I loved was cookies."
Married at 19 in the 1970s, already with a determination to make something of herself, she would constantly hear disparaging comments from her family doubting the realities of her success. When she brought her bakery ideas to them, they told her she was crazy; that she didn't have any money, education or experience. Her husband bet she couldn't make $50 her first day of business. Yet, she took that bet and proved to all the naysayers, her family and bankers alike, that her determination and perseverance was all she needed.
Élizabeth Vigée Le Brun
Painter to Marie Antoinette and other aristocracy in Europe
Élizabeth learnt to paint from her father, who was an artist. Even after her father died when she was 12, Élizabeth continued her training. At the age of 14, Élizabeth she started selling her portraits, which helped to provide for her family. A few years later, her tools were confiscated when it was discovered that she was not part of a guild. As a result, Élizabeth joined the guild of the Académie de St Lu so that she could continue to sell her works.
In 1776, Élizabeth married Jean-Baptiste Le Brun (an art dealer). The match allowed her to travel around Europe and see other works of art. She soon became popular among the French aristocracy for her portraits and became portraitist to Marie Antoinette. This opened the door for her to be part of the Académie Royale de Peinture et de Sculpture, which was very restricted to women at the time. Although women were part of it, they were not allowed to paint from live models.
As the French Revolution loomed, Élizabeth fled France with her daughter and provided for them both by continuing with her portraits in countries such as Austria, Italy and Russia.
Kamila Sidiqui
Dress making business into the Kaweyan Group of Companies
The Taliban came into power when Kamila was 19 years old and her family were forced to move north to Kabul. Whilst there Kamila started a dress making business that involved her sisters, and eventually, employed other women. Kamila continued to learn and created a school to teach women to become seamstresses. She created other companies that helped those in disadvantaged positions and Kamila is now part of her country's government as Deputy Minister for Trade Affairs.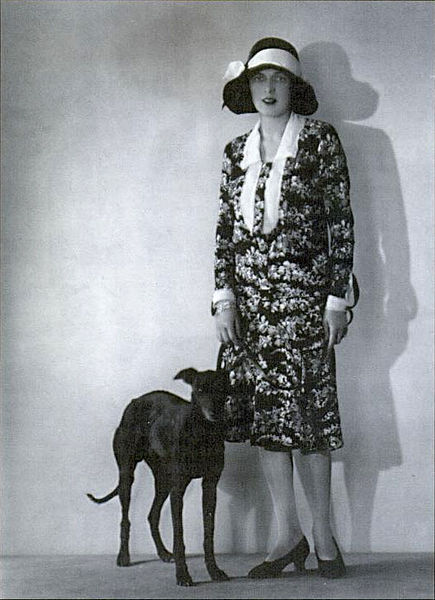 Caresse Crosby (Mary Phelps Jacob)
Creator of the modern brassiere
Mary Phelps Jacobs was born to a prominent family in New York on 20th April 1891. 19 years later, she was dressing for a debutante's ball, and stopped to look in the mirror. The whalebone corset she was wearing was not only uncomfortable, but stuck out underneath the beautiful sheer fabric of her evening dress. An idea suddenly came to her and Mary frantically started stitching together a pair of silk handkerchiefs, a cord, and some pink ribbon to make a garment similar to the modern bra. The resulting product was nicknamed by Mary a "brassiere", which she patented in November 1914 after realising it's potential. These garments became an essential alternative during World War I when the US War Industries Board prohibited corset construction in order to reserve metal and use the ribbing for building battleships. However, before the invention could take off, Mary sold her patent to Warner Brothers Corset Company for $1500. The company would earn $15 million over the next 30 years from their new investment.
Olive Ann Beech
Beechcraft Aircraft Corporation
Olive Ann had always had a keen, organized, and methodical mind. Her mother was an assertive woman who insisted her daughter learn how to manage her finances early. At the age of seven Olive had her own bank account and was given the task of writing checks to pay the family bills at the age of eleven. Later moving to Wichita, she began attending the American Secretarial and Business College instead of high school. By the age of 21, Olive had worked for an electrical contracting company and the newly formed Travel Air Manufacturing Company, where she would meet her future husband, Walter Beech. With her methodical organization and financial wizardry along with his aviation and military knowledge, they were able to establish Beechcraft Aircraft Corporation. Olive successfully ran the company single handedly during 18 tumultuous years which included outfitting the US Army for the Korean War in which sales tripled.
Sarah Breedlove (Madam C.J. Walker)
Madam C. J. Walker Manufacturing Co.
Sarah Breedlove was born in 1867 on a cotton plantation in Delta (Louisiana) to freed slaves. Orphaned at the age of 7, Sarah lived with a cruel brother-in-law and a passive sister. "I married at the age of 14 in order to get a home of my own," she later said. By the time she was 20, she had been married and widowed. In 1888, she took her young daughter and headed north to St Louis, like thousands of others who were fleeing violence and looking for opportunities. Sarah worked as a washerwoman for 10 years and moved from boardinghouse to boardinghouse. The combination of infrequent washing, illness, high fever, scalp disease, low-protein diets and damaging hair treatments led to her hair loss. This was an issue that plagued many African Americans at the time, and so, she sought out the remedy that would make her America's first self-made female millionaire.
Sarah later said that the remedy came to her in a dream. "A big black man" appeared to her with a list of ingredients to use on her scalp. She later claimed to send away to Africa for the ingredients and tested them on herself. "In a few weeks my hair was coming in faster than it had ever fallen out," Sarah claimed. She had not only stumbled upon a cure for her ailment, but for all other African Americans with the same issues. It provided the kind of marketing that was both cosmetic and political, offering a healing product, and not just a cosmetic product.
Struggles Faced in the Past
Throughout history, women are often thought of as the 'weaker' sex. Society has firmly believed that a woman's place as in the home, caring for her husband and children. It is only since the 1900s that women began extending their work outside the home. The jobs they entered into were seen as feminine, and society deemed them as appropriate.
In early periods of history Girls and women were taught that their sole function was to marry, have children, and look after the home. It was believed that teaching women to read or write was a waste of time. Instead, girls learnt how to make delicate conversation, sew, or manage servants instead of develop intellect.
Social barriers significantly reduced opportunities for women, particularly those born into higher class families. In the Britain, government policy strengthened sex differentiation prior to the war, and women were not permitted to earn more than 80% of what a man would doing the same job. Many women started businesses at home instead to help their work-life balance.
The legal status of women classed them as dependents until they married. Thereafter, a woman was considered to be under her husband's protection and authority after marriage. Women had no separate identity and few or no personal rights.
Men dominated decision-making in political, legal and economic affairs in the Victorian era. Women, therefore, tended to gain employment in gender-specific industries. These ranged from the textiles industry through to seamstress and laundry work, or domestic service in the homes of the wealthy. It was thought that those a working woman was doing so temporarily whilst waiting for a husband.
Many still considered the man to be the head of the household in the 1950s. Women had experienced an exceptional amount of freedom during World War II, but many of these women lost their jobs after the war as they were expected to return home. This left married women in particular feeling trapped with no money or career. Yet, these ideals were disappearing with the arrival of "dual-earner families".
Long held traditional values have played a large role in ensuring girl entrepreneurs are hidden from view and our historical records. Women during the 19th century only owned a business if they were without a husband and did not want to become social burdens. These businesses were seen as undignified as they were mostly brothels, taverns and alehouses. This may be why so few records for girl entrepreneurs of the past exist until events in 1914 plunged the world into war for the first time. As employers, husbands, or brothers marched off to the mud-filled battlefields, women took charge of businesses left behind and filled jobs in the factories as munitions workers to make bullets, shells, and vehicle parts for the war effort. This was sometimes done at great personal risk when using harmful chemicals or powders. The discovery of new abilities in a brief period of freedom was an exciting opportunity and many enjoyed using these skills whilst helping the war effort. Yet, shortly after Armistice Day on 11th November 1918, women were expected to give up their wartime jobs and head back to the home where they belonged. It would not be until after the Second World War that social values started to shift and "dual-earner families" arrived in communities. The so-called "business girls" of the 1920s returned as percentages of unmarried women in the workplace soared and career novels started appearing in booksellers. The definition of women as the 'weaker sex', however, has contributed to a widespread lack of confidence that is only now starting to be smashed by a new generation of girl looking to change the world with incredible inventions or ideas.
The Second World War brought about drastic changes to society and more women entered the workplace from 1945 onwards. Yet, even in our modern world, girl entrepreneurs continue to struggle with issues many hoped would be long gone by now. Social expectations remain focused on traditional family values and in some parts of the world discriminatory laws and an unequal access to education are still barriers to progression for girls. Yet, change is happening as more and more girls speak out against gender inequality within the workplace and media images promoting what girls should look like. Lets hope that current trends in thinking continue to take hold so that we see more women as company directors and taking seats on company board of directors.
Junior Girl Phoebe Cawley profiles Girl Entrepreneur Maya Penn, who has created her own company to make and sell eco-friendly clothing.
read more
The biggest myth maintained about gender is that once girls hit puberty, they are thought of as vulnerable and in need of protection to preserve their sexual and reproductive health. Parental expectations and pressure to fit in with peers means girls prefer to keep the peace rather than to speak up with an opinion that might be unpopular.
The campaign for equal pay rights continues and few countries have laws legalising this. Another barrier faced by women in the workplace is sexual harassment and (as before) few countries have legislation to battle the issue. Girls in poorer communities are often forced to choose between control over their own bodies and feeding their families.
Avenues for obtaining funding are growing by the day. Crowdfunding resources, such as Kickstarter and GoFundMe, give girls easier access to funds and investors. Offline, there are more and more companies introducing funding schemes for girls and young women to utilise. Yet, a wide gender gap still persists despite businesses with female entrepreneurs performing as well as, or better, then those led by men.
The 2017 Dove Global Girls Beauty and Confidence Report found that only 46% of girls globally had high body esteem, and more than half of girls with low body esteem struggle to be assertive. These findings indicate that body image remains a key issue for girls across the globe despite courageous efforts to change the social and cultural environment in which we live in.
Educational Guide
Click the button below to download our Educational Guide to Girl Entrepreneurs, which is aligned to US and UK curriculums.
One might argue that generations of gender stereotyping and discrimination is why self-esteem and confidence is so low among girls today. Old struggles have led to new ones, but statistics reveal an increasing number of women are becoming entrepreneurs despite the challenges facing them.
An estimated 163 million women were starting or running new businesses across 74 countries around the world in 2016, and a further 111 million were running established businesses. This increase suggests there are growing opportunities for girls and women to start a business of their own and lead change.
Girls are turning to entrepreneurship to put new ideas or products on the market, but most of all they seek to help others both at home and abroad. Those who are already established entrepreneurs are using their positions to speak out about their experiences and encourage others not to be afraid of making their ideas a reality. The incredible ventures girls are embarking on mean many of these bright young individuals are becoming the next inspirational role models for girls wanting to start their own business.
Changes to the Industry
We are once more seeing many changes happening within the business world, but how these will affect girl entrepreneurs remains to be seen. It is particularly important to note that being a female entrepreneur is not the same across the world.
In some countries, it is normal for women to be business owners and support their families in this way. A recent international study found that women from low to middle income countries (such as Russia and the Philippines) are more likely to enter entrepreneurship compared to those of higher income countries (e.g. Belgium, Sweden, and Australia). The key factor being here that women from low-income countries often need to seek additional means of income and around 40-50% of all small businesses in developing countries are owned by women.
Yet, business practices and environments are different across the world. To be a successful business women in the Western hemisphere, women need to have a masculine energy in order to be seen as a strong leader and earn the respect of others. Some parts of the world put more of an emphasis on mutual respect and understand when running a business and these practices often suit female entrepreneurs better. The challenges these women face, however, are the same and we are only now starting to see some real changes in the industry.
There is more awareness of female entrepreneurs in the press and reading about their incredible accomplishments inspires other women to become entrepreneurs. The industry has a larger variety of ways to fund business (e.g. crowd-funding websites) instead of relying on the more traditional ways of funding a business that are more supportive towards men. More investors are now women, and so, awareness of how female entrepreneurs think is growing to the point where people are adapting tactics to combat this. Finally, school systems in some parts of the world are changing to provide more support and encourage young enterprise by teaching young people the key skills in which to become entrepreneurs.
Actions Needed
It seems highly likely that the numbers of girl entrepreneurs will continue increase. Numerous sources have revealed that the numbers of girls becoming entrepreneurs is growing and 2015/6 trends indicate that the numbers of men entering self-employment have started to decline.
However, in order to support further growth, there are many actions needed to break the barriers that remain in place for many women when starting and building their own businesses. A variety of reports highlight the pressing need for better access to finance for female entrepreneurs and the need for more support from the industry, politicians, the media, and organisations like The Entrepreneurs Network to champion women in enterprise.
Female entrepreneurs are looking for better coaching opportunities, improved access to capital, education, training, and other resources to help sustain them over time. It seems logical then that school programmes should ensure early intervention and make sure girls are taught essential entrepreneur skills (such as pitching ideas and networking) from a young age. Training schemes are other important tools that draw girls into entrepreneurship and support their professional development by building leadership and management skills for the workplace.
Governments and established businesses should provide more grants specifically aimed at female entrepreneurs and encourage participation in the wider entrepreneurial networking community as a way to integrate a 50:50 gender balance. Female entrepreneurs, particularly those just starting out, would benefit greatly from networking events geared specifically toward women. These events would help them to build business contacts or partnerships, learn from others, and share individual stories from women who have broken barriers.
Support such as this could become the basis for educating, motivating, and inspiring other women to think about starting their own business. Utilising the media would further help to celebrate women, their achievements, and encourage girls around the world to take the lead.
Our journey through the course of the exhibition has led us to many discoveries and some incredible girl entrepreneurs. For many years, women faced considerable barriers to starting their own businesses. These included discriminatory laws, a lack of education provided by a male-dominated society, and gender stereotypes held by communities. Only in the last few years have we started to see some changes in attitudes towards girl entrepreneurs. There is more access to funding, fewer legal barriers in some parts of the world, and more support for female entrepreneurs than before. The key to increasing numbers of female entrepreneurs further must be to encourage girls to take the plunge and lead change.
Are you a Girl Entrepreneur?
Are you doing incredible things with your business? Share your experiences as a Girl Entrepreneur by emailing share@girlmuseum.org, and we'll feature it on our blog and this exhibit.
Teachers!
Our Educational Guide for Sparked! features activities and discussion questions designed to engage your K-12 students with this exhibition.
Credits
The curatorial team for this exhibition was Ashley Remer, Claire Amundson, Tia Shah, Brittany Wade, Jessica Eykel, Phoebe Cawley, Alicia Garcia Pajares, and Megan Joyce.
Special thanks to Jasmine Burton (Wish for WASH), Melanie Blanding, and Megan Grassell(Yellowberry) for their interviews and photos.
All photos and videos in this exhibit are used under (1) Creative Commons licensing, (2) Fair Use terms of U.S. Copyright law, or (3) with the express permission of the author.
Additional Resources
Useful Websites:
Useful Networks:
Funding Opportunities: