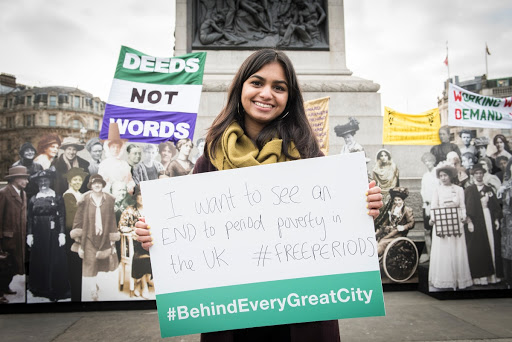 Born: 4th October 1999
Site: University of Cambridge, England
Amika George was born on 4th October 1999, in Kerala, South India and was raised in the UK. Whilst in secondary school, George read an article about how many young people in Britain miss school due to stigma around periods and/or being unable to afford sanitary products. 'Sanitary products in the UK are classed as a "luxury, non-essential item" and taxed at 5 per cent and the average lifetime cost of sanitary products is estimated at £4,800'1. Inspired to take action, Amika founded the Free Periods organisation in April 2017 and began an online petition calling on the Government to provide free menstrual products to all children on free school meals. The petition gained over 200,000 signatures meaning that it had to be addressed by Parliament.
Amika went on to organise protests in an attempt to capture the attention of the UK government and force them to bring in policies that provide free sanitary products to school children in Britain. Her organised events featured famous speakers including Adwoa Aboah, Jess Phillips MP and Suki Waterhouse and her work has been recognised and celebrated by actress & activist, Emma Watson. George has written articles about period poverty and the importance of young people as activists for a number of major publications such as Vogue, The Guardian and The Telegraph.
Through her work, Amika also highlights the health and hygiene issues associated with period poverty related to the lengths that young people have to go to when they can't afford sanitary products. These include using clothing rags, pads of toilet roll or reusing tampons for days which can lead to toxic shock syndrome. She is also fighting for better education for men around menstruation, starting in the school setting, so that they understand periods better and help to end both the stigma and period poverty.
George's work and activism has earned her a number of honours including being named on the Time Most Influential Teens of 2018 list, The Big Issue Top 100 Changemakers and teen Vogue's 21 under 21 list. In 2018 she was also awarded a Goalkeepers Campaigners Award from the Bill & Melinda Gates Foundation.
On the 22nd January 2020, Amika's hard work paid off when it was announced that every state-maintained school and college in England will be able to order free period products for their students. She is now fighting for this option to be advertised to schools better so that they are more aware of the opportunity to take up the offer. George is currently studying History at University of Cambridge.
Sources:
1https://www.independent.co.uk/news/uk/home-news/period-poverty-campaign-free-sanitary-schools-amika-george-a9285346.html
https://en.wikipedia.org/wiki/Amika_George
https://www.freeperiods.org/who
https://www.bbc.co.uk/news/uk-51167487
Related Entries